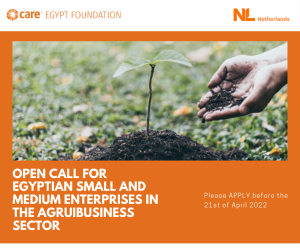 SASPEN Project: open Call for Agri-preneurs:
Care Egypt foundation is launching the open call under the SASPEN Project (Sustainable Agriculture Service provision Enterprise Network in Egypt) benefiting from the Dutch expertise in the agribusiness through establishing and maintaining an Egyptian -Dutch informational channel in agricultural innovation and entrepreneurship to support young agribusiness professionals and expanding small and medium enterprises (SMEs) by introducing innovative solutions to their technical challenges, linking these SMEs to financial resources, and promoting innovation and technologies. Thus, Improving efficiency and performance of the agricultural sector in Egypt.
The SASPEN project is managed by Care Egypt Foundation (CEF) in partnership with Care Netherlands (CNL) and funded by the Netherlands embassy (NL).
We are inviting young professionals representing small and medium enterprises in agribusinesses in Egypt to apply to this cycle to get the needed technical support provided by the Dutch -Egyptian expertise to support their establishments of agricultural-focused SME start-ups and/or expand their existing SMEs.
This support will be in the form of a diversified and selected set of training courses where the agri-preneurs will have access to sources of technical guidance, access to financial information sources to improve their skills and further develop their products and services.
These SMEs will also benefit from channels for business opportunities with Dutch projects, companies, and partners in the agri-scene.
Criteria of Selection:
Who can apply?
– young agribusiness professionals (female and male) we encourage females to apply.
– Could be the founder/ cofounder of a small/ medium enterprise in agriculture sector
– committed to attend the program fully
– hold the Egyptian nationality
– interested in sustainable agriculture and agricultural innovation.
– English and Arabic language proficiency is a must
– Have the ability to travel with no restrictions
What are the criteria that the proposed SMEs should meet?
– Must be a legal and registered entity
– has been working for more than 2 years and providing a registered service/ product in the market
– Targeted SMEs should have the interest in becoming inclusive and sustainable.
– Focus on different agricultural aspects that range between input supply to production support or technology/machination to post-harvest processes and marketing.
– Priority will be given to SMEs who can demonstrate a direct /indirect benefit to smallholder farmer, rural farming communities and youth, and women.
– propel the technology transfer and innovative solutions
you can apply by filling the attached form.
The deadline for this call is the 21st of April 2022.
For inquiries , please contact: Saly.sami@care.org